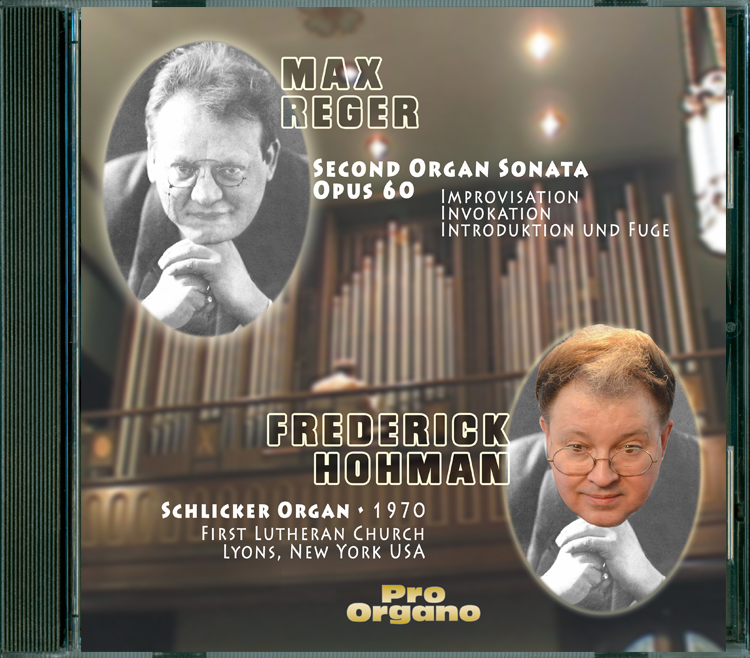 Notes from Frederick Hohman:
During my years in the 1970s and 1980s studying organ in music school, I became friends with a few organists who had gone to Germany to study with the famous German organist and teacher Michael Schneider.  When speaking on the topic of Max Reger (1873-1916), these students mentioned that Mr. Schneider believed that the Second Organ Sonata, Opus 60, was very likely Max Reger's most finely crafted organ work.  Considering the volumes of organ music that Reger wrote, that was quite an endorsement.  In 1976, I had been the only U.S. representative in organ in what can be described as an "Olympics" of classical music:  The Fifth International J. S. Bach Competition in Leipzig (which was then in East Germany).  The competition had three rounds held over a two-week period in Bach's own church, and competitions in piano, voice, and strings in addition to organ.  One of the requirements in the organ repertoire was the final movement of Max Reger's Second Organ Sonata.  It was under these conditions that I first studied and performed the piece.  My occasion to prepare it for the competition with my organ professor, David Craighead, gave us both a chance to study the piece, because the occasion of my study of it also appeared to be his first exposure to the work.  David Craighead must have liked the Second Sonata a lot, because soon he was playing the complete Second Sonata of Reger on his concert tours, and others in the Eastman School of Music organ department were beginning to study it.
In 1979, I recorded the three movements of Max Reger's Second Organ Sonata, Opus 60 (circa 1901) for an FM radio broadcast series, for which I was both the performing organist and host.  The second movement of the sonata (Invokation) never made it to air in the series, because of the format of the radio program.  The broadcast format specified that a variety of composers should be represented on each half-hour organ music program, so airing the entire sonata in one episode was not allowed.  Also, the broadcast had strict time constraints, with each program needing to be about 28 and one-half minutes in duration.  Somehow, the middle movement of Max Reger's Second Sonata just never fit into one of the broadcast episodes.
I had been asked by a friend – who happens to be a specialist in German organ music of Reger's time – if I knew of any recordings of Max Reger's Second Organ Sonata, because he was in the midst of preparing to play the work in concert.  I said "Of course I know of a recording – I made one in 1979!"  The audio tape of the recording was sitting for about 35 years in a climate-controlled media vault.  It took a bit of digging, but I located it, and was pleased to discover that the recording sounded just as fine as it did when I recorded it in 1979.  I thought it would be a good idea to share this recording with Pro Organo website visitors.  The complete sonata is about 25 minutes in duration.  You can download it complete or pick and choose individual movements.  It is available as a FREE MP3 album download beginning on August 30.