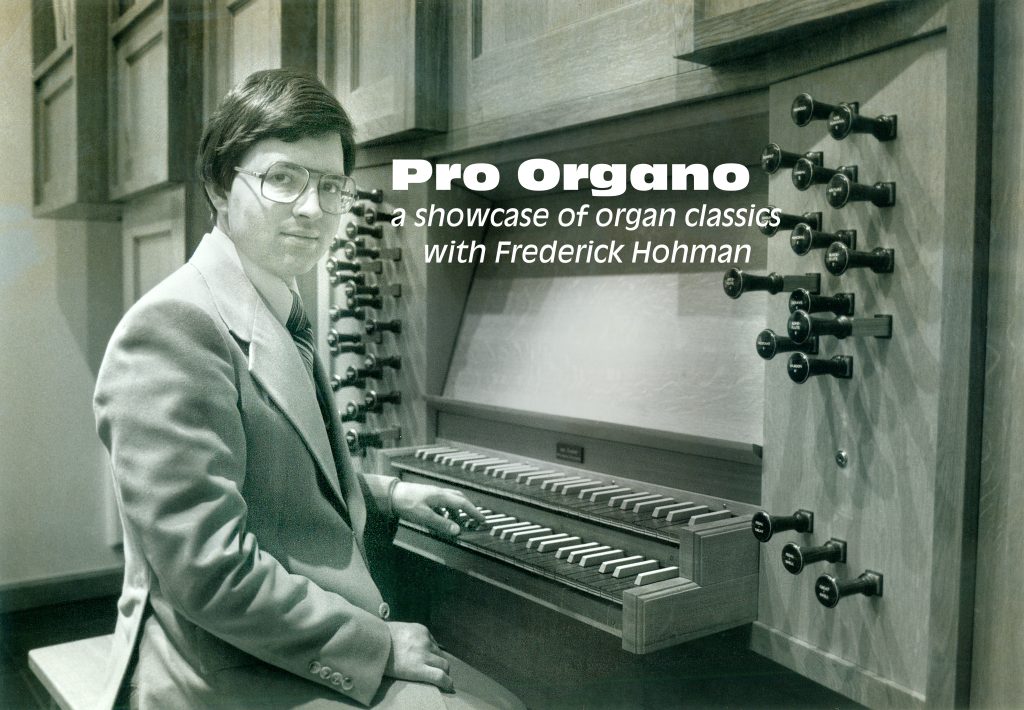 – Above, Frederick Hohman is seated at the console of the new Jan Van Daalen pipe organ at the Eastman School of Music in Rochester, New York, on Friday, March 10, 1978.  Photo by Mark Hobson. –

(To access audio of posted episodes from the series, please scroll all the way down!)
Before PRO ORGANO became the trade name of a recording label, it was the name of a weekly half-hour radio series, where producer Frederick Hohman served as the sole performing organist, host and audio engineer.  In 1975, while enrolled as an undergraduate student with a major in Applied Music / Organ at the Eastman School of Music in Rochester, New York, Frederick took a church job, as organist-choirmaster of First Lutheran Church of Lyons, New York.  He served there from Fall of 1974 to January of 1979.  Few Eastman School organ students who lived in Rochester wanted to drive the 36 miles each way to and from Lyons for only one Sunday morning service.  Still, Frederick gladly accepted the job, because he was very impressed with the pipe organ, which was designed with the help of Eastman School professor David Craighead, and installed there in 1970 by the Schlicker firm of Buffalo, New York. The acoustics of the sanctuary of First Lutheran Church were also quite outstanding and very suitable for music.
Frederick's idea for becoming a radio broadcaster started about 2 years prior to his entry into the Eastman School, and prior to his discovery of the Schlicker organ at First Lutheran Church of Lyons as an ideal recording venue.  He made audio recordings prior to entering Eastman, and still 18-months prior to the formal start of production on the radio series, he continued to make "test" recordings. While at home in St. Louis during the Christmas break after his first semester at the Eastman School, on January 8, 1975, Frederick made test recordings of his playing at Emmanuel Episcopal Church in Webster Groves, Missouri.  Frederick had been Associate Organist at Emmanuel Episcopal in the year prior to his leaving St. Louis for Eastman in September 1974.  The test recordings allowed for evaluating all aspects of the performance, but these recordings, made on a consumer-grade open-reel tape recorder, were unsatisfactory from an audio fidelity standpoint and were not suitable for FM radio broadcast.  This critical issue was excessive flutter and wow, which is easy to detect when hearing sustained organ tone.  Upgrading his equipment in July, 1976, made just prior to start of production on the series, solved the fidelity issue.  Many more audio engineering details are found in the additional engineering notes section, below.
In November, 1976, Frederick commenced production on the radio series with the First Lutheran / Lyons venue.  His Sunday routine was to lead music for the 10 a.m. Sunday worship service, lead a 40-minute post-service choir rehearsal, have lunch with the Pastor at a local diner in Lyons, and then to return to the sanctuary to practice on Sunday afternoon, finally driving back to Rochester in the early evening.  In summer of 1976, Frederick began to make audio recordings of his performances on the Schlicker organ, with a goal of recording one organ music selection each Sunday afternoon.  By 1977 Frederick had a healthy library of organ music recordings, all of which he made at First Lutheran Church of Lyons.  He grouped the organ music recordings into programs, each with a duration, including his brief spoken remarks prior to the playing of each organ work, lasting between 27 and 1/2 minutes to 29 and 3/4 minutes.  He thought this duration of program would fit well into a half-hour public radio broadcaster time slot.
After gaining approval of his Eastman School organ professor, David Craighead, Frederick began to syndicate his organ music series of 20 half-hour programs to FM radio broadcasters.  Before syndicating it, Frederick needed to assign a title to the series.  He met with three of his organ-student colleagues over lunch at the "Coffee Break" restaurant, which was, at that time, located just across the alley from the main building of the Eastman School.  His friends suggested several titles, among them "Piping Hot" and "The Lyons Roar."  (Who said organ students don't have a sense of humor?)  The meeting ended with "Pro Organo" being decided as the series title.
Frederick's idea to produce a radio series of organ music was one that evolved steadily from childhood.  As a boy of only 5 years, he was fascinated by his father's open-reel tape recorder, known as the "Webcor." He experimented with it, by recording and playing back his child-like improvisations on bongo drums and a variety children's musical toys.  In the year prior to entering the Eastman School of Music, in 1972, Frederick was experimenting with recording audio of organ selections he played upon the Holtkamp organ at Emmanual Episcopal Church in Webster Groves, Missouri, where Frederick had been hired by Rev. Zane Wesley Gordy (associate minister and director of music/ organist) as his assistant organist.  After arriving in Rochester in 1974 as an Eastman School undergraduate student, Frederick would make frequent evening hours visits to WXXI-FM radio on State Street in downtown Rochester, New York, where he was befriended by Steve Galasso, WXXI staff engineer.  Steve schooled Frederick one-on-one in electrical engineering and audio engineering.  Also befriending the young organist Frederick was Mr. Jon Gaines, who had a position as an audio equipment designer and engineer at Rochester's Ashly Audio.
All audio recordings for the PRO ORGANO radio series were engineered in stereo with 1/4″ analog reel-to-reel tape.  Editing was performed by Hohman himself, using the then-traditional editing tools of an editing block, splicing tape and a single-edge razor blade.  Although a satellite radio distribution service was available at that time for public radio affiliates, the hourly rent for the satellite service was considered too expensive to use.  In the 1970s, there was no internet to assist in program distribution, and satellite was a preferred method for media distribution for t.v. and radio broadcasters.  For those producers wishing to distribute programming without using satellite, producers would make multiple copies of the broadcast programs on open reel magnetic tapes, and ship the audio tapes by U. S. Mail or UPS to broadcasters.  As each group of programs was aired by a broadcaster, the broadcaster was to forward the broadcast tapes, again using UPS or U.S. Mail, to the next broadcaster on the list.  After a single set of broadcast tapes made the rounds of from 3 to as many as 10 broadcasters, the broadcast tapes were returned to the producer.  Distributed tapes were dubs made from the original master recordings, so after airing of the episodes, the dubbed tape copies used by broadcasters were erased, and the process was repeated, with new audio dubs of the next season's programs being distributed.  This distribution process is described by veteran FM broadcasters as "bicycling" the tapes.
Selections heard in the Pro Organo Radio Series were recorded as early as September, 1976; however, the weekly airing of the completed episodes in the series did not occur until after 10 of the episodes were completed.  So the series production schedule was relaxed at first.  Once the series began to air, a weekly program commitment had been made, and production schedules for completing the series became more active.  Among the FM radio broadcasters airing the PRO ORGANO radio series from 1978 to 1980 were the following:
WCNY-FM 91.3, Syracuse, New York
WCBE-FM 90.5, Columbus, Ohio
KFUO-FM 99.1, St. Louis, Missouri
KMFA-FM, Austin, Texas
WRUR-FM, Rochester, New York
KFPK-FM, Louisville, Kentucky
WBUR-FM, Boston, Massachusetts
WNED-FM, Buffalo, New York
KWMU-FM, St. Louis, Missouri
WWNO-FM, New Orleans, Lousiana
KTEP-FM, El Paso, Texas
WSIE-FM,  88.1 , Edwardsville, Illinois
Minnesota Public Radio Network, Inc.
KSJR-FM 90.1, Collegeville / St. Cloud, Minnesota
KSJN-FM 91.1, Minneapolis / St. Paul Minnesota
KLSE-FM 91.7 Rushford, Minnesota
KLCD-FM 89.5, Decorah, Iowa
KCCM-FM 911, Moorehead, Minnesota/ Fargo, South Dakota
WSCD-FM 92.9, Duluth/ Superior, Minnesota
KRSW-FM 91.7, Worthington, Minnesota
South Carolina Educational Radio Network
WMPR-FM, Sumter SC
WSCI-FM, Charleston SC
WEPR-FM, Greenville SC
WLTR-FM, Columbia SC
WPRV-FM, Rock Hill SC
The magnetic open-reel tape widely marketed for professional use in the 1970s was manufactured in the USA by 3M (St. Paul, Minnesota) and by Ampex (Opelika, Alabama).  While the tape performed well when new recordings were made in the 1970s, the formula of the binder of the oxide to the substrate of the tape would become sticky, over time, with an adhesive quality, rendering the tape unplayable.  The PRO ORGANO radio series utilized this formulation of magnetic tape throughout the production of the series.  In 2006, just before the time when the series master tapes would have become unplayable, Frederick transferred and remastered the entire PRO ORGANO radio series into an all-digital audio format.  With digital remastering, the audio of the series sounds slightly more vivid today than when it was originally aired in the 1970s and 1980s.
Additional, Detailed Audio Engineering Notes:  The Pro Organo series was recorded with a 4-microphone array, mixed to stereo on location.  The production, post-production and distribution of the audio was in the analog realm, as the series pre-dated widespread use of digital audio.  Microphones were a pair of PML (Pearl Microphone Labs, Sweden) Model EC-71 (a cardioid FET-circuit condensor microphone), having an unbalanced, high impedance output, powered by a 67.5 V DC power supply from battery, and a matched pair of AKG C-451E condenser microphones (Austria), fitted with CK-1 cardioid capsules, which were powered with an 18V DC battery power supply, which was designed and built by Hohman himself.  A second set of interchangeable microphone capsules for the AKG microphones was in use during the production of the series, known as the CK-1S.  This CK-1S capsule provided a slight shelving high-frequency boost starting about 5 kHz, and use of these capsules helped to emphasize the French organ music characteristics on French organ works recorded in the series.  The PML microphones were placed at the organ loft rail, spaced about 12 feet either side of the organ console.  The AKG microphones were spaced in the middle of the Nave, at a distance of about 30′ from the pipe façade.  The recording device was a Revox A700 open-reel 1/4″ tape recorder.  The Revox model A700 was a high-end consumer recorder that was fashioned after the Studer Model B67.  Revox was a consumer brand of the industrial audio recorder brand known as "Studer" or Willi Studer AG, in Switzerland.  Expensive Studer open-reel recorders shared many of the same interior parts as their Revox consumer counterparts.  The A700 was a three-speed unit with exceptional flutter / wow performance, even when operating at slow tape speeds.  Although the A700 was normally shipped with 1/4 track stereo head assemblies, the unit used by Hohman for the series was fitted with the 1/2 track stereo head assembly, which was the industry standard tracking for open-reel recordings in the broadcasting trade.  Although touted as a "portable" unit, the Revox A700 weighed in at about 68 pounds.
The Pro Organo Radio Series was recorded at a tape speed of 7.5 inches per second.  Open reel tape stock in use at the outset of the series in 1976 was Scotch 206.  Newer tape stocks emerged in 1977, and Frederick made the switch to Ampex 456 (Grand Master).  When using the new tape formulas with higher output, Frederick adjusted the electronics on the A700 (which recorded audio at a relatively low industry standard magnetic fluxibity level of 185 nanowebers per meter) to record at an elevated fluxivity level of 257 nanowebers per meter for 0 VU (+ 3 db over 185 nW/m).  This level was further raised to 385 nanowebers per meter (+6 db over 150 nW/m) for 0 VU when 3M introduced Scotch 250 and 226 tape stock.  All tape segments of the series were edited together using a single-edge razor blade, splicing tape and a traditional aluminum editing block, with 1/4″ white paper tape stock as "slugs" to fill the brief time between announcements and opening segments and performance audio.  For program distribution, reel-to-reel tape dubs for individual episodes of the series were made directly from the master recordings onto "factory second" tape stock from the same plant that manufactured Ampex 406, known in the trade as Irish (Ampex) 291.  These were 7″ boxed and reeled tapes, which held enough tape (about 1200 feet) for a 32-minute program play time at 7.5 inches per second.  Boxed tapes were grouped into 5 or 10 episode blocks and were bicycled around a circuit of from 3 to 10 public radio FM broadcasters before being returned to the producer.  Although some background white noise (tape hiss) was apparent on the original recordings, having an acceptable signal-to-noise ratio of only -59 db, this level of "noise" was more than masked by the narrow dynamic range of stereo FM radio transmitters, which typically had a noise floor in the 1970s at only -50 db.  When the original recordings were digitally remastered (about year 2006), it was possible to remove all tape hiss and other noise without affecting the quality and content of the audio program. For some of the last produced episodes, producer / host Frederick experimented with using professional audio noise reduction systems, namely Dolby Type A and DBX Type 1.
Why didn't the Pro Organo series continue?  This is an often-asked question.  The series had success with all but one of the broadcasters airing the series in 1978 and 1979.  As you will note in the station list above, the Minnesota Public Radio Network aired Pro Organo.  The chief contact who arranged the airing over MPR was Michael Barone, who, at that time, was serving as a manager / staffer of the MPR network's affiliate in Collegeville / St. Cloud, Minnesota.  In the spring of 1978, Michael had asked Frederick if he might consider expanding the Pro Organo episode duration from the 30-minute weekly format to a full-hour weekly format.  At that time, Frederick was nearing the end of his studies leading to his Master of Music in Performance and Literature at the Eastman School of Music.  In spite of Frederick's unusually wide repertoire, he still felt he could not commit to what was, essentially, a doubled production schedule.  There was, of course, the continued expectation that repertoire heard on the series would seldom, if ever, be repeated in more than one episode.  The hoped-for expansion of the series to one hour weekly would also still presume that Frederick would continue to be sole host and sole performer of all the music in the series.  To retain a weekly program on the air at MPR which met the criteria of a one-hour weekly format, Mr. Barone had a "Plan B," and that plan was to produce a new organ-music series at MPR.  It was called "Pipedreams."   Pipedreams soon became an extremely successful weekly program.  Pipedreams is now universally known and loved, having enjoyed national and international syndication, with more than 40 years on the air.  Frederick and Michael continue a long-term friendship.  Michael has featured Frederick's performances and the performances of all the artists appearing on the Pro Organo label through the decades on Pipedreams.
In a radical change of pace, in 1979, Frederick abandoned the production of the Pro Organo radio series, and he drew upon the production skills he had gained in producing and engineering the Pro Organo series to try his luck as a "jingle" writer, that is, a composer of singing radio and tv commercials.  Frederick did speculative writing, orchestrating and studio recording for several ad agencies in St. Louis, Missouri.  In 1981, he also became a successful technical salesperson, serving television and radio stations and recording studios, while working for Boynton Studio, Inc. in upstate, New York.  But by 1983, Frederick was back to the organ bench again, enrolled in a DMA (Doctor of Music Arts) degree program, returning to the organ class of David Craighead at the Eastman School of Music.  It was then that he thought of taking his radio series name "Pro Organo" and applying it as the name of a new recording label.  At that time, the Compact Disc was the becoming the new audio format of choice, and the Pro Organo recording label grew quickly as the Compact Disc format gained popularity.
---
ALL ORIGINAL 24 PRO ORGANO RADIO SERIES EPISODES ARE POSTED JUST BELOW, WITH LINKS TO THE INDIVIDUAL AUDIO-CASTS AT VIMEO.COM.  The final four episodes, #21 through #24, were produced as custom extensions to the series, and these aired over Classic 99 KFUO-FM in St. Louis, Missouri.

---
EPISODE 1
https://vimeo.com/855020947
PROGRAM:
Vincent Lübeck – Prelude and Fugue in E major
Robert Schumann – Fugue No. 5 on BACH, Opus 60
Claude Balbastre – Le Romance de Monsieur Balbastre
Marcel Dupré – Variations on a Noel, Opus 20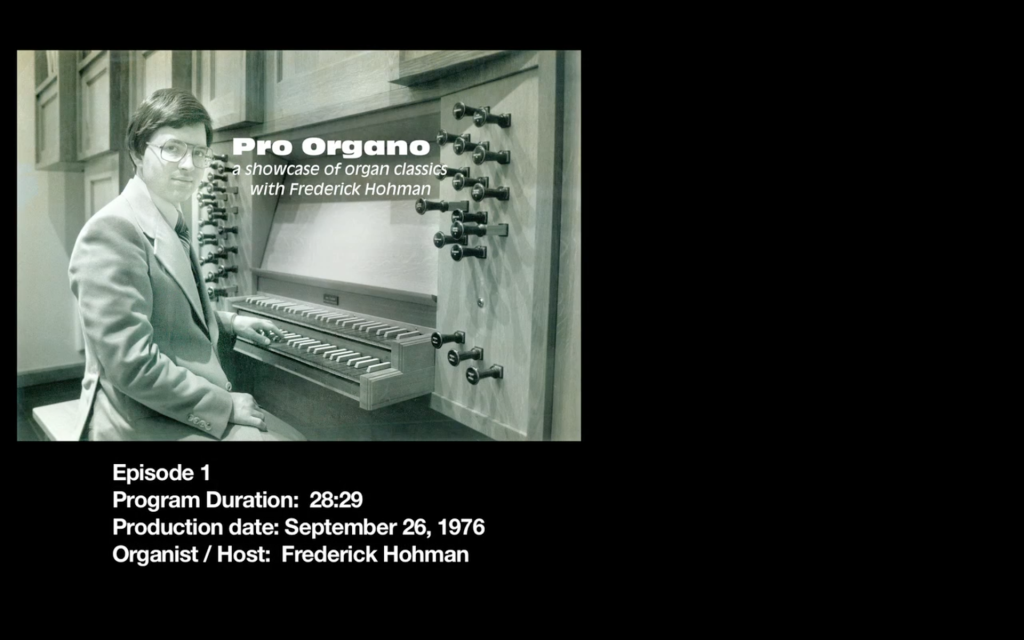 ---
EPISODE 2
https://vimeo.com/855546363
PROGRAM:
J. S. Bach – Prelude and Fugue in G major, S. 541
Jehan Alain – Choral Dorien / Choral Phrygien
Charles-Marie Widor –  Allegro (first movement), Symphony 6, Opus 42 #2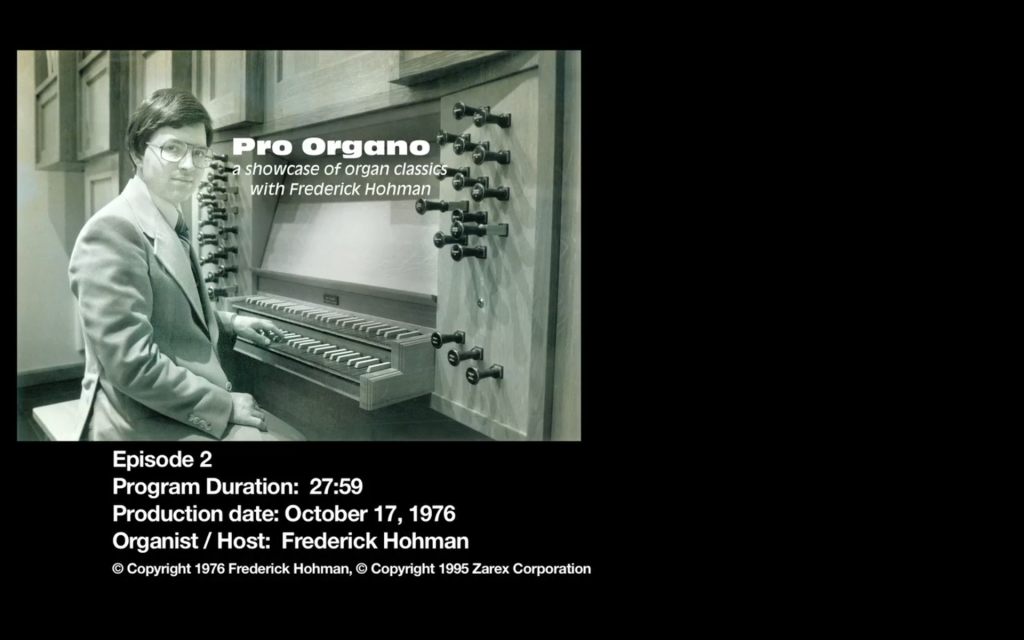 ---
EPISODE 3
https://vimeo.com/855988045
PROGRAM:
J. S. Bach – Partita on: Sei gegruesset, Jesu gütig, S. 768
Max Reger – Introduction and Fugue from Second Organ Sonata, Op. 60
---
EPISODE 4
https://vimeo.com/856160635
PROGRAM:
Paul Hindemith – Sonata II
J. S. Bach – Toccata and Fugue in F major, S. 540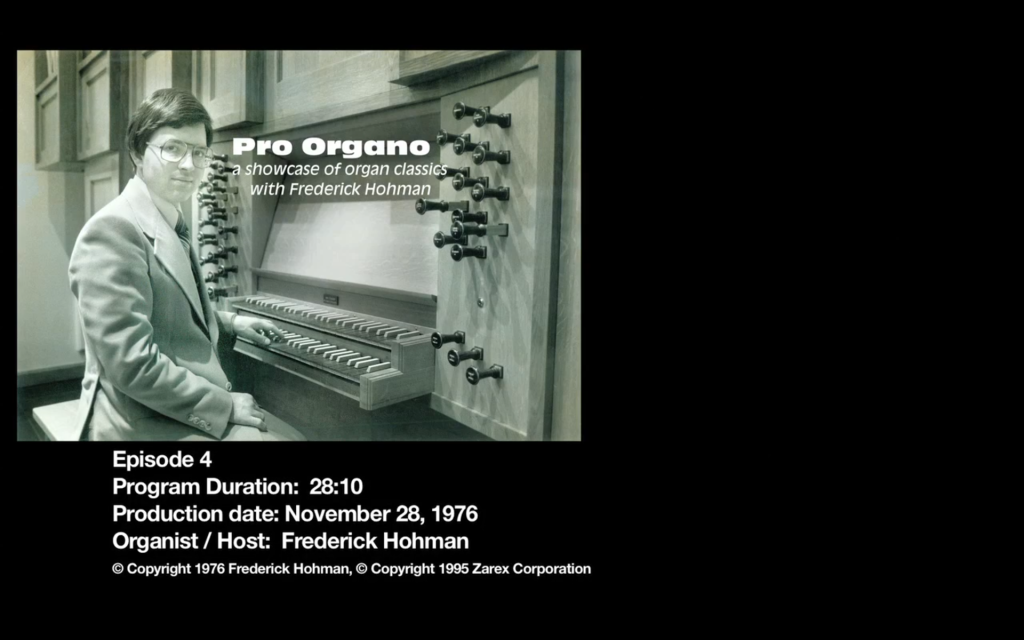 ---
EPISODE 5
https://vimeo.com/856613944
PROGRAM:
Vincent Lübeck – Prelude and Fugue in F major
Louis-Nicholas Clérambault – Suite du Deuxieme Ton
Louis Vierne – Toccata in B-flat minor, Opus 53 #6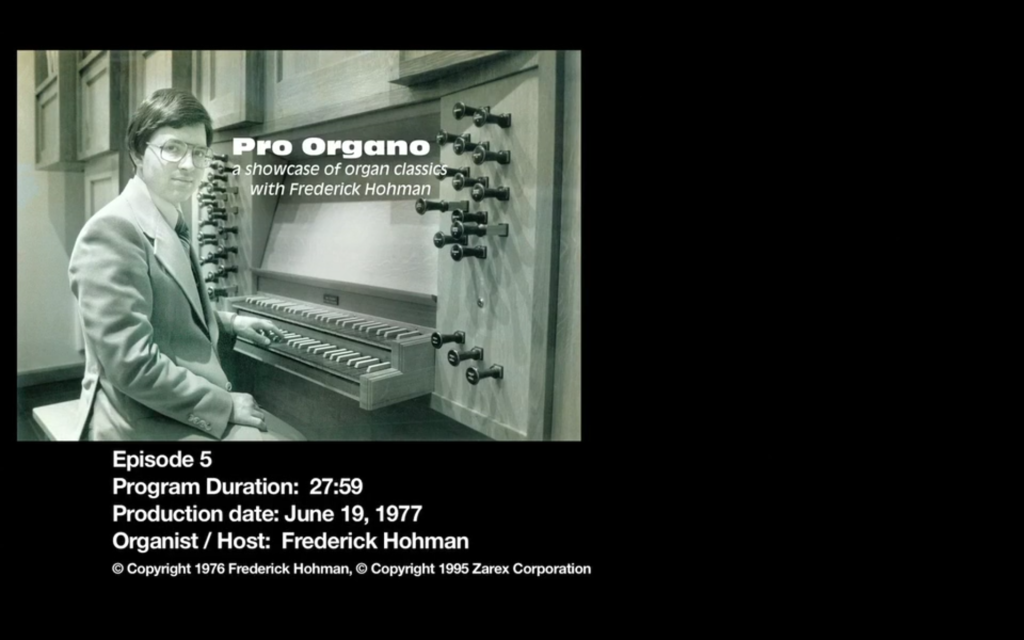 ---
EPISODE 6
https://vimeo.com/859147147
PROGRAM:
J. S. Bach – Trio: All Glory Be to God on High, S. 664
Maurice Duruflé – Prelude, Adagio and Choral Variations on "Veni Creator" Opus 4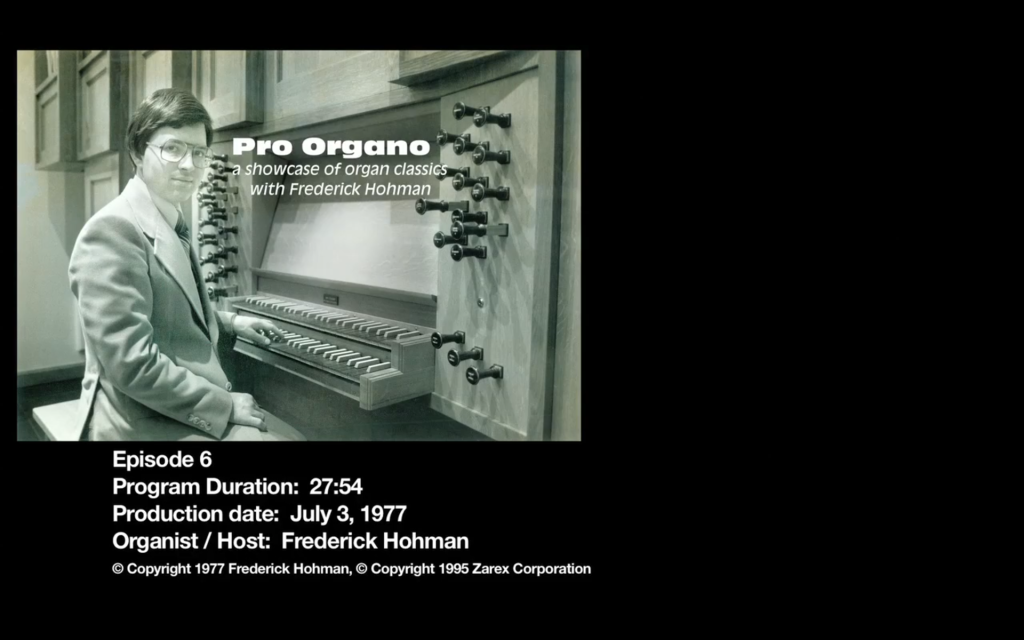 ---
EPISODE 7
https://vimeo.com/859565407
PROGRAM:
Vivaldi-Bach – Concerto II in A minor, S. 593
Robert Schumann – Canons I and V from Six Canonic Studies, Opus 56
Maurice Duruflé – Toccata from Suite, Opus 5
---
EPISODE 8
https://vimeo.com/860001625
PROGRAM:
Peter Planyavsky – Toccata Alla Rumba
Jan Pieterszoon Sweelinck – Variations on Mein Junges Leben Hat Ein End'
Michel Corrette – Grande Jeu avec le Tonnerre
J. S. Bach – Prelude and Fugue in C major, the "9/8", S. 547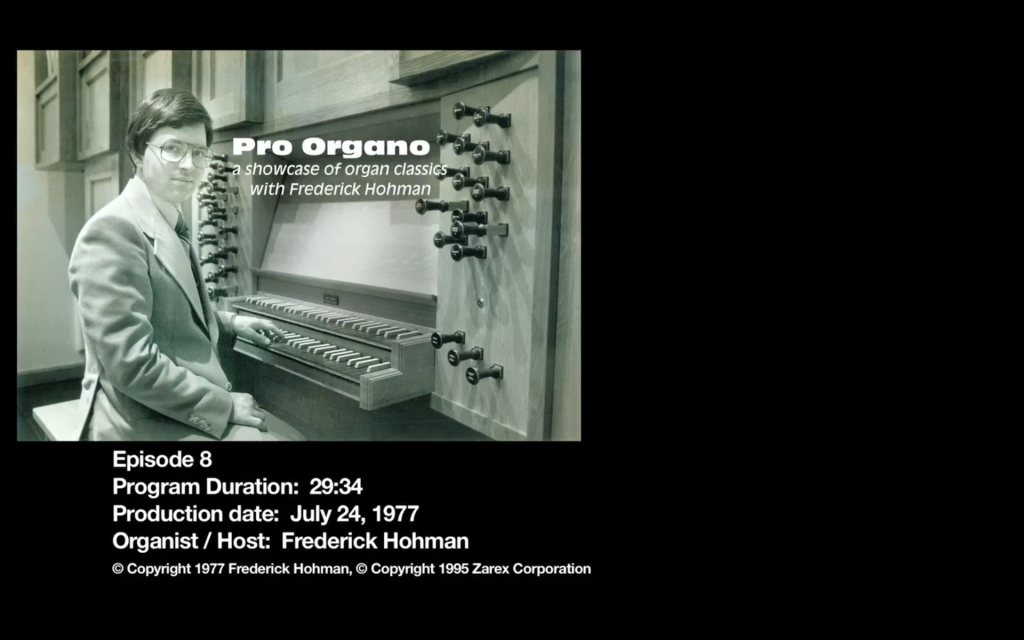 ---
EPISODE 9
https://vimeo.com/860388739
PROGRAM:
Felix Mendelssohn – Sonata in A major, Opus 65 #3
J. S. Bach – Trio Sonata I in E-flat major, S. 525
Robert Schumann – Fugue I on BACH, Opus 60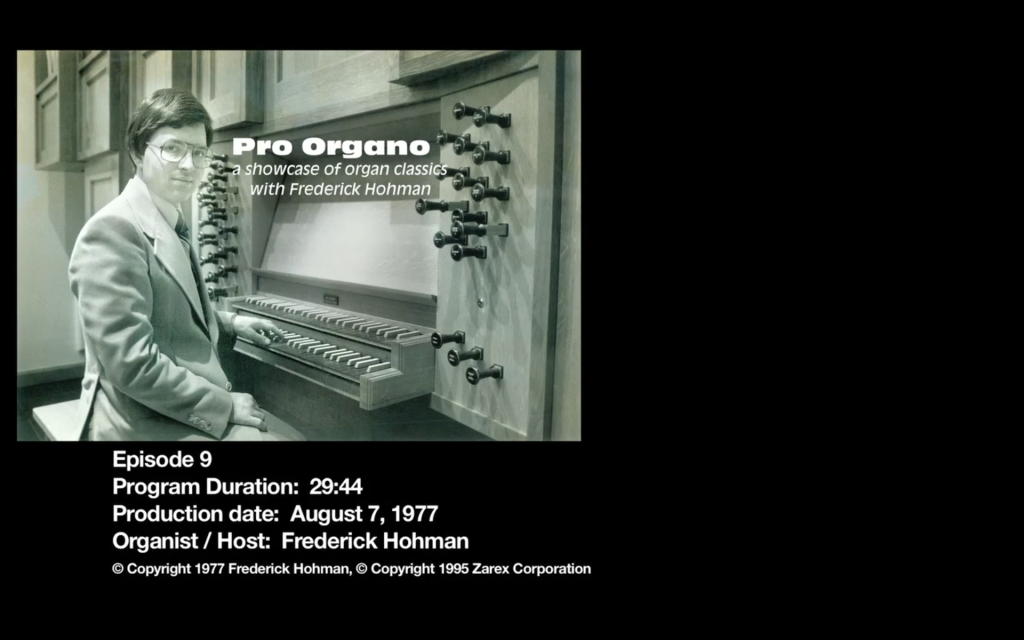 ---
EPISODE 10
https://vimeo.com/860566261
PROGRAM:
Dietrich Buxtehude – Prelude and Fugue in F major
Louis Vierne – Impromptu from Pièces de Fantaisie
Felix Mendelssohn – Sonata in F major, Opus 65 #1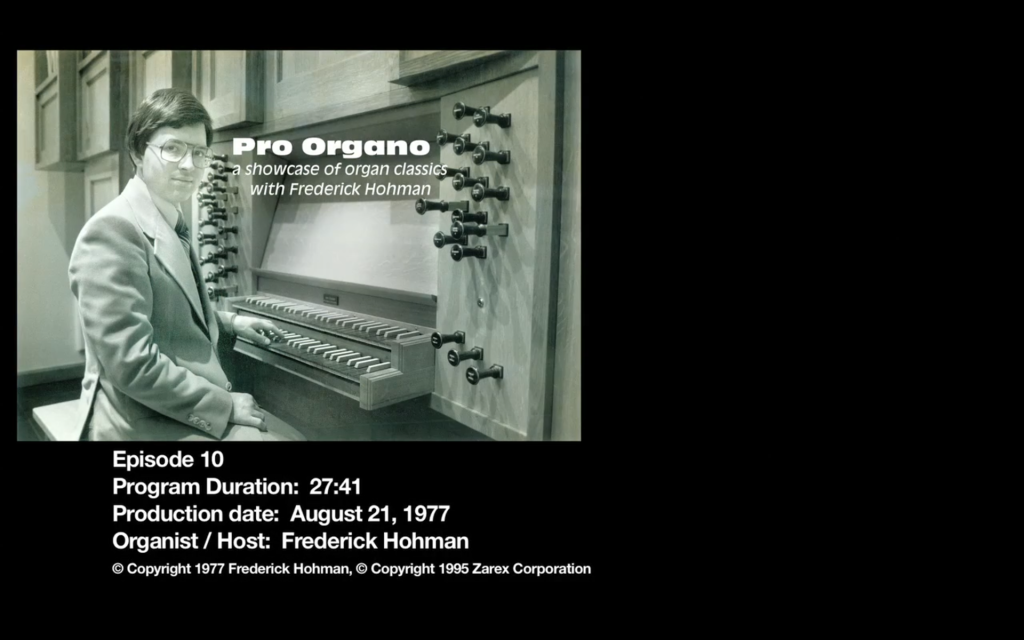 ---
EPISODE 11
https://vimeo.com/860848776
PROGRAM:
Nikolaus Bruhns – Prelude and fugue in E minor "the Great"
Eugène Gigout – Scherzo in E major, from 10 Pieces for Organ
J. S. Bach – Prelude and Fugue in B minor, S. 544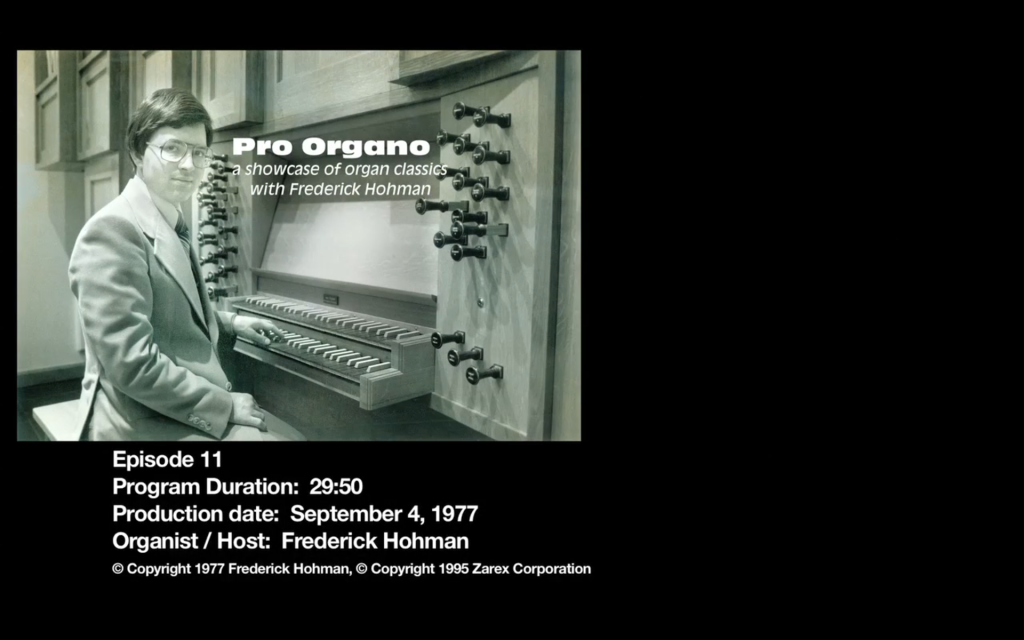 ---
EPISODE 12
https://vimeo.com/861054525
PROGRAM:
Anton Heiller – Tanz-Toccata
J. S. Bach – Von Gott will ich nicht lassen, S. 658
Louis Vierne – Divertissement, from 24  Pieces in Free Style
César Franck – Choral No 3 in A minor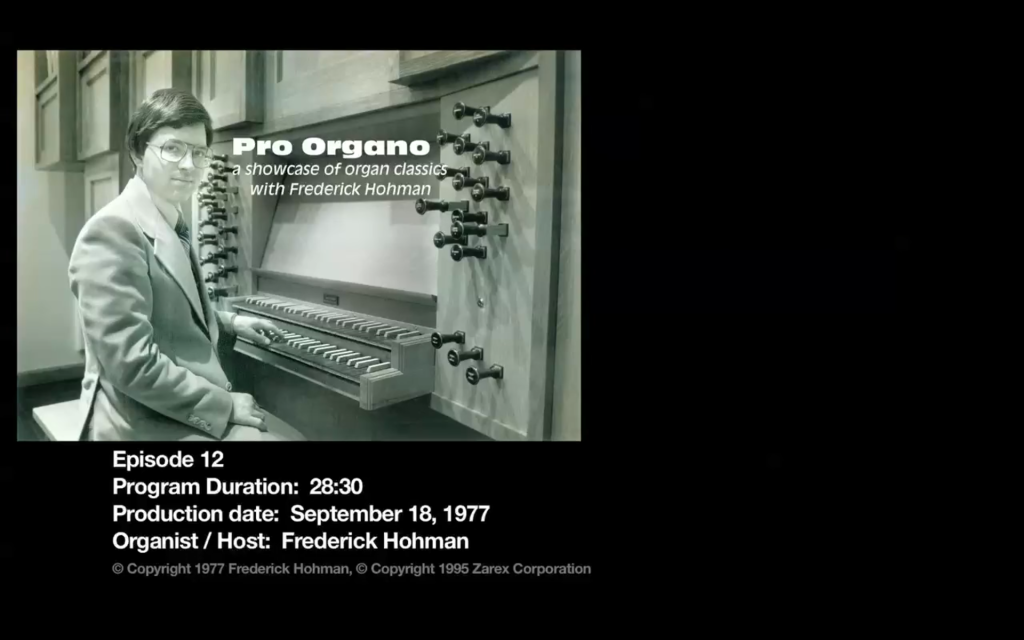 ---
EPISODE 13
https://vimeo.com/861341267
PROGRAM:
Pierre duMage – Three movements from Suite de Premiere Ton
J. S. Bach – All Glory Be to God on High, S. 662
J. S. Bach – Christ, Our Saviour, Who Takes God's Wrath From Us, S. 688
Marcel Dupré – Prelude and Fugue in G minor, Opus 7 #3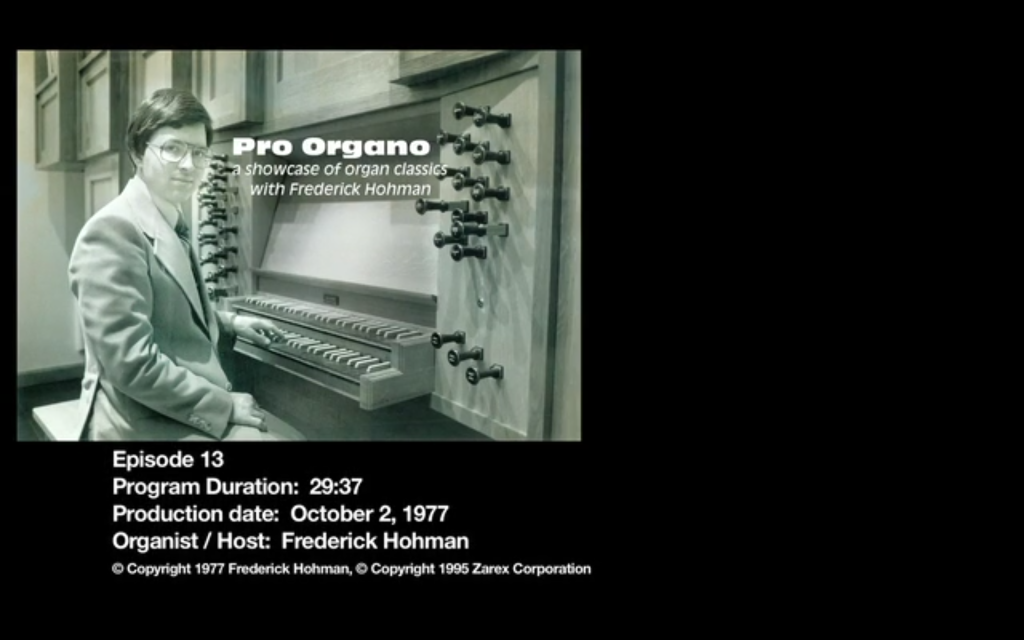 ---
EPISODE 14
https://vimeo.com/861751266
PROGRAM:
Jean Guillou – Saga VI – Ikarus
Joseh Haydn – Five Flötenührstücke
Robert Schumann – Canon in A minor, Opus 56 #2
Max Reger – Second Organ Sonata, Op. 60: I. Improvisation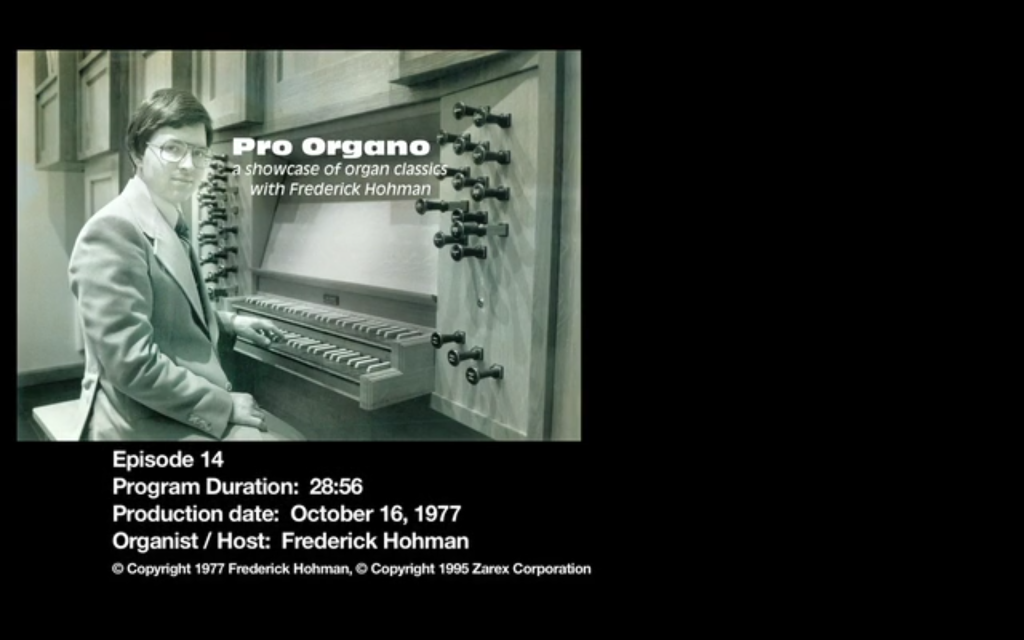 ---
EPISODE 15
https://vimeo.com/862005570
PROGRAM:
J. S. Bach – Prelude and Fugue in D minor, the "Fiddle" S. 539
Jehan Alain – Postlude for the Office of Compline
Jehan Alain – Intermezzo
Charles-Marie Widor – Allegro (first movement) Symphony 6, Opus 42 #2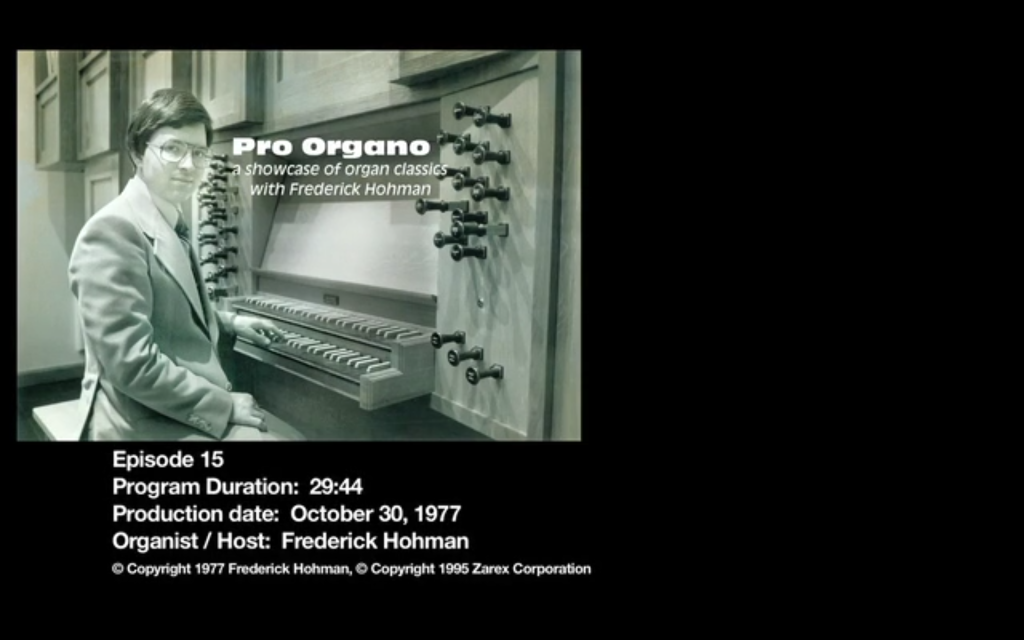 ---
EPISODE 16
https://vimeo.com/862244047
PROGRAM:
Herbert Collum – Totentanz Variationen über "Es ist ein Schnitter, heisst der Tod" [1976]
Paul Hindemith – Sonate I [1937], complete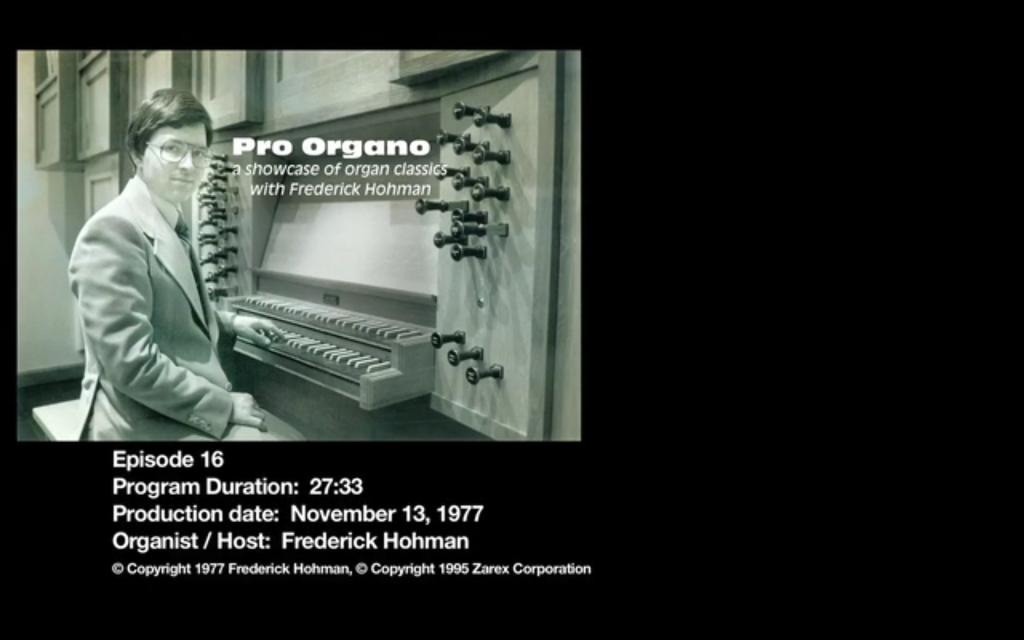 ---
EPISODE 17
https://vimeo.com/862537055
PROGRAM:
Charles Ives – Variations on America [1891]
Jehan Alain – Two Dances to Agni Yavishta [1932]
J. S. Bach – "Dorian" Toccata and Fugue in D minor, S. 538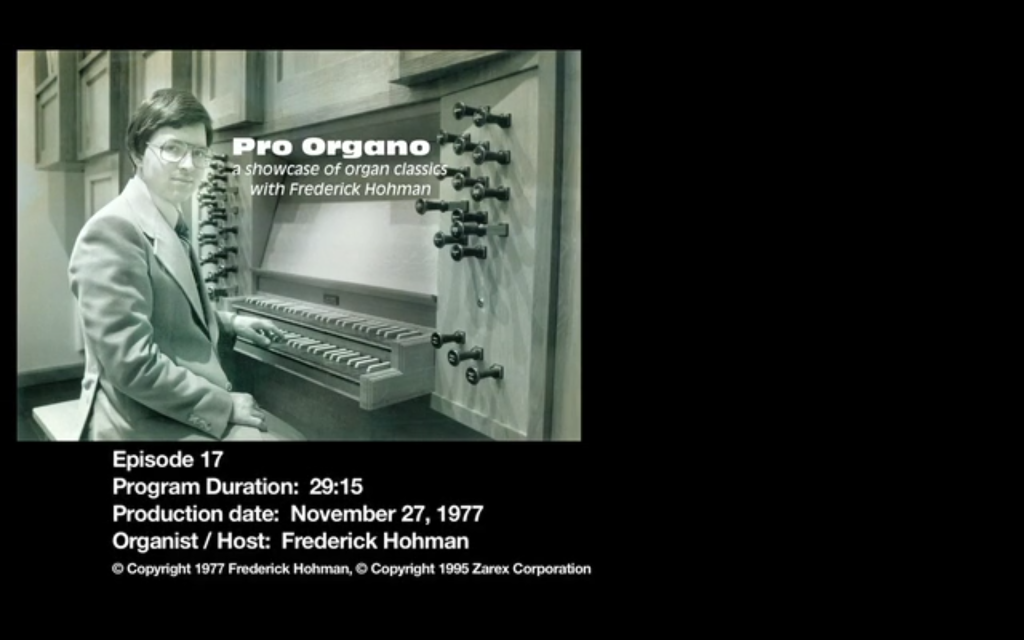 ---
EPISODE 18
https://vimeo.com/862686424
PROGRAM:
Anatoly Liadov – A Musical Snuff Box [1893], trans. Hohman
Pyotr Ilyich Tchaikovsky – The Nutcracker Suite, Opus 71a [1893], trans. Hohman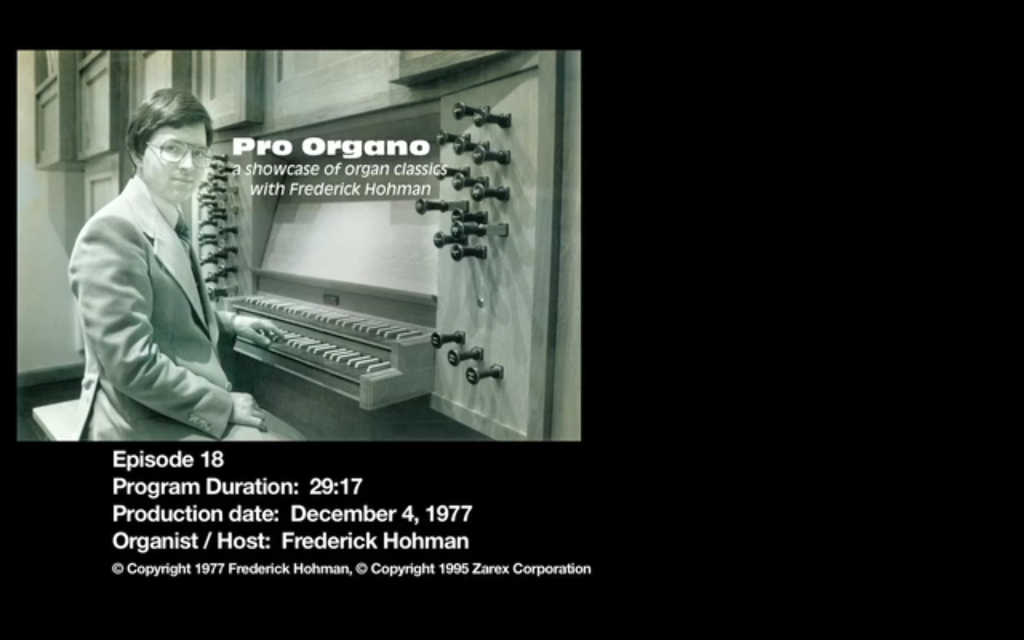 ---
EPISODE 19
https://vimeo.com/862806666
PROGRAM:
J. S. Bach – Chorale-Prelude: Valet will ich dir geben, S. 739
Charles Ives – Chorale-Prelude: Adeste Fideles [1897]
Dieterich Buxtehude – Chaconne in E minor, BuxWV 160
Charles-Marie Widor – Andante sostenuo, from Symphonie Gothique, Op. 70 [1895]
Eugène Gigout – Toccata in B minor, from Dix Pièces for Organ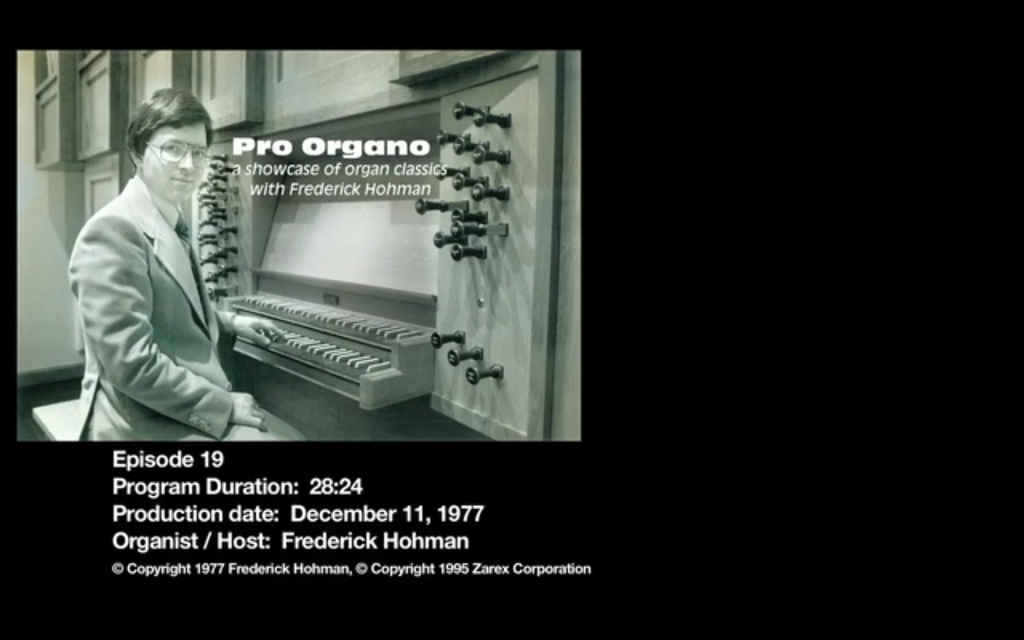 ---
EPISODE 20
https://vimeo.com/863022660
PROGRAM:
G. F. Handel – Organ Concerto in B-flat major, Opus 7, No. 1 [1740]
J. S. Bach – Prelude and Fugue in A major, S. 536

---
EPISODE 21
https://vimeo.com/865823562
PROGRAM:
Peter Planyavsky – Toccata Alla Rumba
Rayner Brown – Sonata for Clarinet and Organ (with Michael Drapkin, clarinet)
J. S. Bach – Little Fugue in G minor, S. 578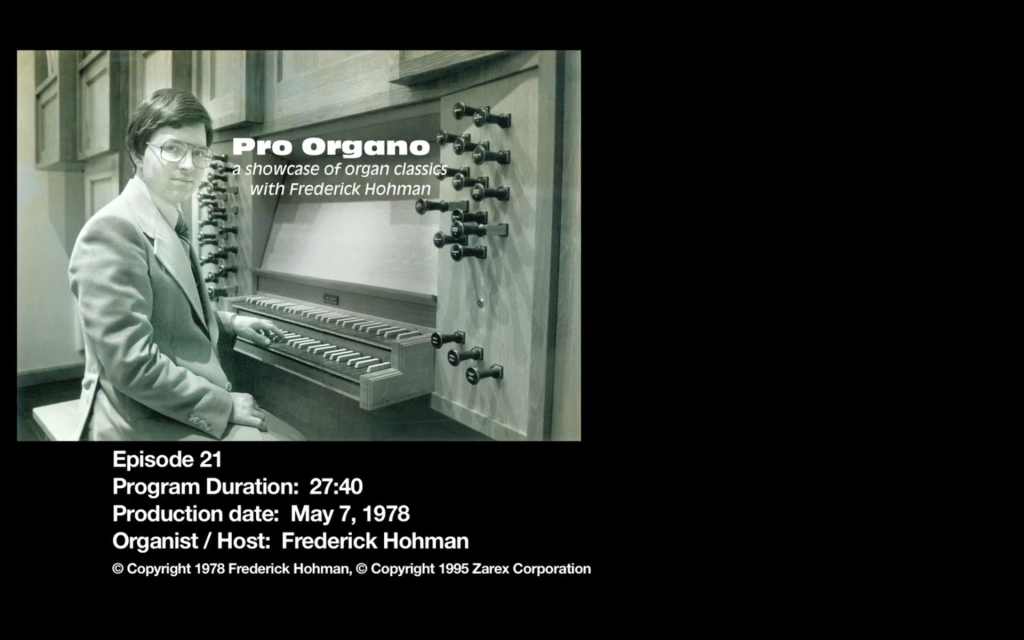 ---
EPISODE 22
https://vimeo.com/865429905
PROGRAM:
Mendelssohn – Sonata in A major, Opus 65 No 3
Jehan Alain – Postlude for the Office of Compline, and Intermezzo
Anton Heiller– Tanz Toccata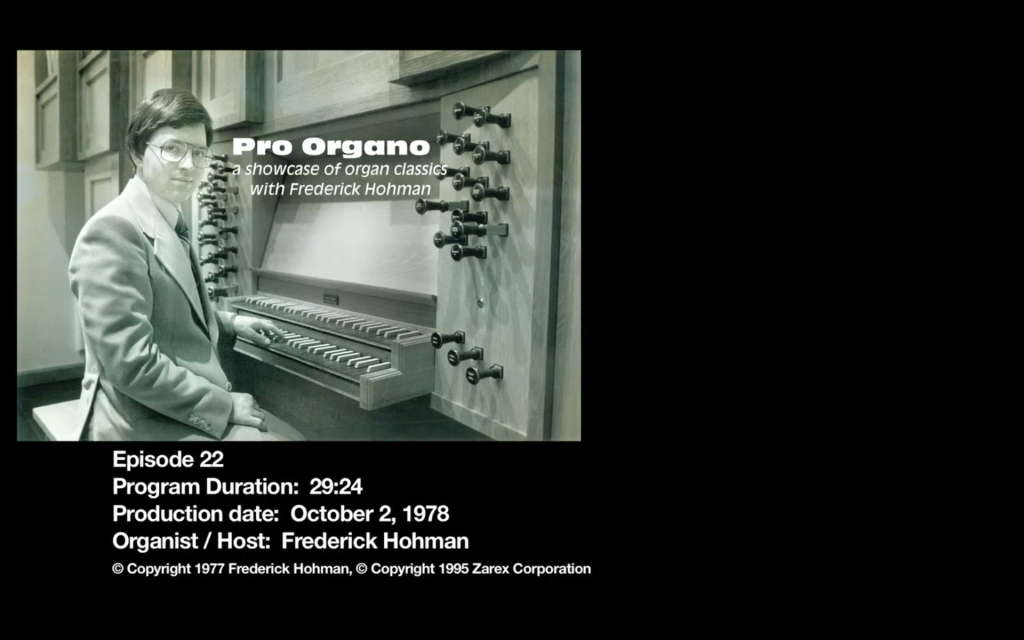 ---
EPISODE 23
https://vimeo.com/866361550
PROGRAM:
J. S. Bach – Come, Saviour of the Gentiles, from the "Great 18," S. 659
J. S. Bach – Sleepers, Wake!, from the Schübler Chorale Preludes, S. 645
J. S. Bach – Three selections from "Orgelbüchlein" – Advent/ Christmas seasons
Vincent Lübeck – Prelude and Fugue in D minor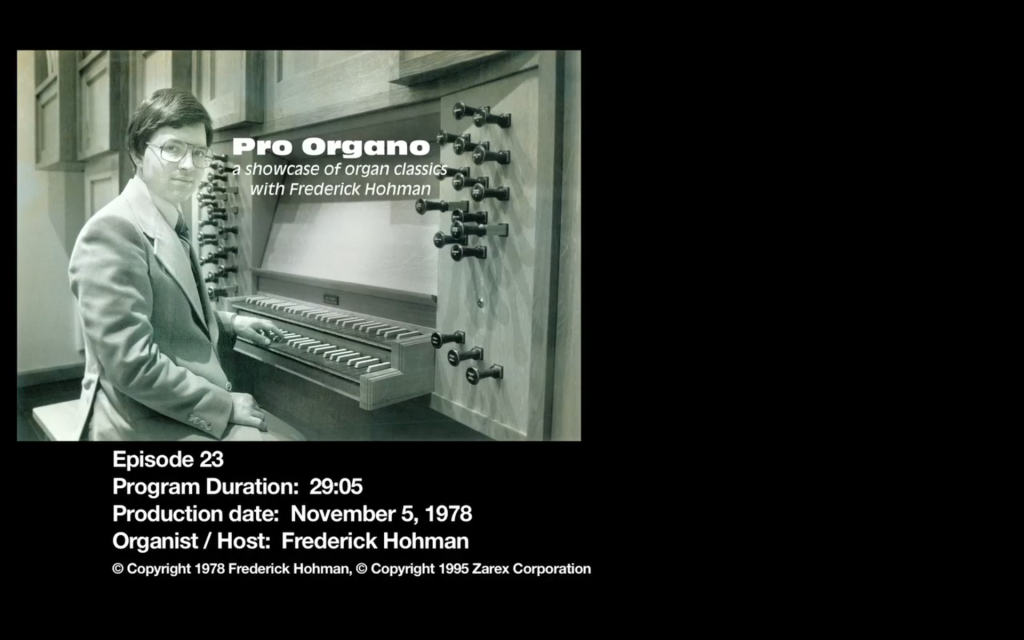 ---
EPISODE 24
https://vimeo.com/866780434
PROGRAM:
Louis-Claude Daquin – Noel X in G
J. S. Bach – Three Organ Settings of In Dulci Jubilo
Claude Balbastre – Noel: When Jesus Was Born
Hohman – Comic Variations on Good King Wenceslaus